RAGT
Rouergue, Auvergne, Gévaudan, Tarnais,
the four regions from which RAGT originated.
RAGT, a century of passion
for agriculture and innovation
1919 – 2019 : RAGT is celebrating its 100th anniversary this year.
Founded by farmers in Aveyron in the form of an agricultural cooperative, RAGT is currently developing two complementary businesses in the ongoing aim of of providing innovative solutions for farmers : RAGT Semences and RAGT Plateau Central.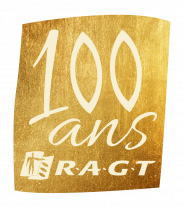 people dedicated
to research
new seed varieties per year in the RAGT Semences catalogue
private agricultural supplier in Occitanie RAGT Plateau Central
stores open to the general public under the RAGT Jardin et Maison banner